Outdoor K'alma Spa Cabanas
License #MM32781
Ocean views, sparkling pool, swaying palms… All come together to whisk you to relaxation. K'Alma Spa is the perfect enhancement to your stay with us, where K'alma has created journeys that indulge the fantasy lifestyle for which South Beach is so well known.
Enliven all your senses at our oceanfront spa cabana located on the first floor. Or find inner peace in the privacy of your guest room. At the Daydream Spa Cabana, billowy havens and pops of color fuse mindfulness with playfulness, while the oceanfront setting makes for an authentic tropical experience.
Therapies are delivered via a signature menu inspired by Miami's unique culture, including our famed Cafecito coffee-infusions. Organic ingredients and blends created in-house impart TLC to both guests and our surrounding environment.
Fresh Start Body Treatment
January Spa Special
Start the year out fresh by shedding dead skin with our sea salt body scrub, cleansing any bad vibes still lingering from last year. (Complementary crystal)
60 min - $140
Mint For Each Other Massage
February Spa Special
Join us for Valentines with our Mint For Each Other couple's massage. Using chocolate oil infused with mint, allow the natural ingredients to create a fresh connection for the special month. (Complimentary Champagne)
60 min - $300
You Glow Girl Facial
March Spa Special
In honor of Women's History Month, we have a radiating facial infused with honey to help you glow like the queen you are!
50 min - $130
Spring Cleaning Body Treatment
April Spa Special
Spring clean your body with our floral infused body treatment that will not only make your skin glow but also help relax your body into spring.
60 min - $150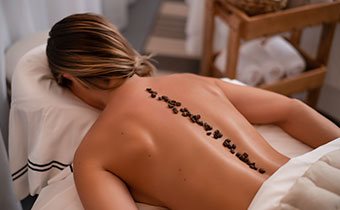 The Cafecito Collection
K'Alma Spa introduces a signature coffee-infused collection derived from organic, fair trade beans officially endorsed by Pura Vida. Research continually shows that caffeine's energy revival effects translates when applied topically as well. In just moments, it penetrates the skin barrier to deliver rich levels of antioxidants to combat UV ray damage, stimulate circulation, and boost oxygen flow. The result is a brighter complexion, firmer skin, and an overall younger look. How do you take your coffee? The Cafecito collection comes in massage, facial and add-on variations
Moon Over Miami
Why limit your relaxation time to fun in the sun? As night falls, the soft illumination of the moon, gentle touch of ocean breezes, and sounds of lapping waves sets the scene for a couples massage journey like none other. As the body embraces the powers of pure, natural oils, the mind opens to both inner and an inter connection with your loved one.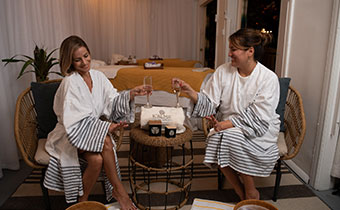 Spa Etiquette
Twilight Escapes: Merge relaxation and romance with our nighttime couples' massage series.
Spa Soirees: Our spa group packages extend that inner balance and connection to a social one with a glass of bubbles and serious pampering from our team.
Maternal Therapies: We provide personalized therapy variations safe for expectant mothers.
Spa Like A Pro: We will take it to the next level, and accommodate special requests and preferences.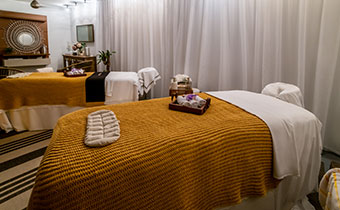 The Gift of Relaxation
A unique experience translates into a special memory that can last indefinitely. Allow us to help create that moment for that special someone… and elevate your status a great gift giver too!
Spa Mixology Class
If only you could bottle your experience at The Sufrcomber/K'Alma Spa and bring it home. Oh wait, you can! Mix and mingle at this interactive class, where you will create your own 100% natural spa products packed with healing and aromatherapy powers. Our spa specialists provide techniques and other tips for best enjoying these new blends. Includes final packaged product, candle, and 20% off on your next K'Alma journey.
Coming Soon