Our hotel suites up the luxe
If you'd like to treat your elbows to a little extra room, a Kimpton Surfcomber Hotel suite does the trick—beautifully. Stretch out in a famous Kimpton animal-print-lined bathrobe on a stylish chaise lounge in an Oceanview Luxury Suite. Or step onto the private veranda of your Oceanview Balcony Luxury Suite and meditate on sound of the crashing waves. Early riser? Catch a jewel-toned Miami sunrise. The possibilities seem a little more endless in a hotel suite. Communication accessible features are available upon request.
Check Availability Book Direct on our website.
Our Best Rates + Perks. Always.
<
>

City View Luxury Suite
770 sq. ft.
View of Collins Avenue
1 king bed
Separate living room
Pull out sofa bed in living area
Luxury Atelier Bloem bath amenities
<
>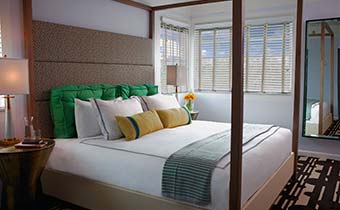 Oceanview Luxury Suite
500 sq. ft.
Views of the pool, backyard, and beach
1 King bed
Pull out sofa bed in living area
Luxury Atelier Bloem bath amenities