Chef Javier draws inspiration from his Spanish & Italian roots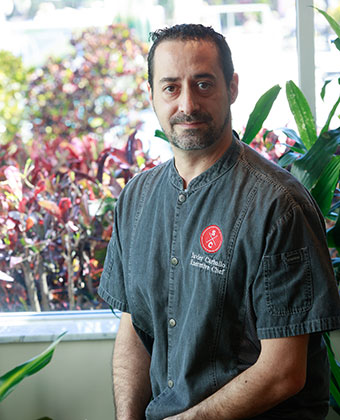 On the Miami culinary scene for over a decade, Chef Javier Carballo previously served in chef leadership roles at other well-known locales like PM Fish and Steak House and Leynia at the Delano. A native of Uruguay, Executive Chef Javier pulls inspiration from the cultural influences of his Spanish and Italian grandparents. Getting his start in the kitchen at the age of 12, he took over for his mother cooking pizzas for his family's regular Friday night pizza and movie nights and hasn't lost his love for cooking for others since.
Chef Javier folded many of those cultural influences into the new fall menus at the Social Club. On the dinner menu, Latin American touches abound with hand-made Empanadas on the social boards selection that make for light, shareable choices. The Boneless Short Rib over potato foam and Pan Seared Branzino layered on green apple mint cous cous stand out as some of the soon-to-be foodie favorites with innovative takes on French and Italian classics. Paired with the barrel-to-glass wine selection and endless wine flights, Carballo's cuisine is an instant crowd-pleaser.