Six lovely venues for private dining
You have the occasion and the guest list. Now, where to dine? Kimpton Surfcomber Hotel serves up a poetic array of indoor and outdoor options, from an intimate dinner among friends in a poolside cabana to a family reunion for 200 under the stars in our private sandy oasis. Your guests can choose from Kimpton Surfcomber's creative, American-inspired dishes, or our chef will craft an original menu for your special event. Private dining in Miami has never been so delicious.
Need to book an event, dinner party or other affair? Contact us at catering@surfcomber.com to create a unique experience for your social or private event.
Ignite Your Holiday Spirit
We have all the ingredients you need to plan the perfect party - inspiring spaces, food and cocktails, plus curated playlists. Book by January 31, 2018.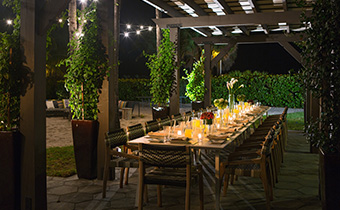 Royal Table Dining
Feel the sand between your toes, literally, as you and your guests dine amid swaying palm trees and ocean breezes. Perfect for dinner parties of up to 25 guests, with room to dance the night away. Our private sandy oasis boasts 6,250 square feet for receptions up to 200 people.
Social Club Terrace
First impressions last, and The Social Club Terrace greets your guests for cocktails and hors d'oeuvres before entering the main event. Available with dynamic private lounge space for groups up to 40.
Poolside Cabana Dining Lower
Private dining at its most private. Practice the art of flirting with your sweetheart in a Poolside Cabana. A dedicated server will bring you delectable offerings from a special prix fixe menu. Arrangements can be made for up to 4 people.
Lantao Terrace
Located adjacent to the pool, Lantao Terrace is an outdoor, semi-private option for lively receptions, dinners and gatherings of up to 50 people within 918 square feet.
Upper Cabanas
Enjoy the most tropical views in the house in our Upper Cabanas. Overlooking Kimpton Surfcomber's beautiful pool with clear views of the Atlantic Ocean, this scene is ideal for private cocktail receptions, weddings and social events. Accommodates up to 200 guests with 2,200 square feet of space.
Longboard and Patio
Reflecting South Beach's iconic Art Deco design, this unique indoor/outdoor pavilion offers a private entrance that opens to an elevated terrace, where balmy breezes welcome your guests. Suitable for up to 140 guests with 2,050 square feet of total space.